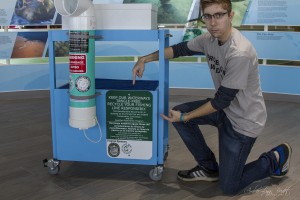 Our WildlifeVOICE Team ventured off to visit the newly built Manatee Lagoon here in Riviera Beach, Florida. Manatee Lagoon is a sanctuary for manatees to visit while seeking warmer waters. The building was very easy to find and conveniently located along the intercostal waterway. When we arrived, we were immediately direct where to park by their staff.
Just a few feet from the building, we made our way over to the manatee viewing area, where we were able to see a manatee right away. We spent a few minutes observing before we headed inside to their atrium, where they have all the information you would need to know about manatees, their habitats, conservation efforts, and migratory patterns.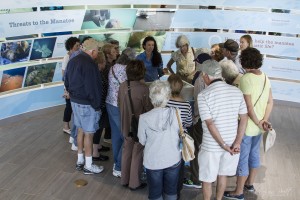 The atrium has numerous interactive screens that shared information about other local Florida local species, from birds, to fish, and even plants. Manatee Lagoon offers free tours of the facility; these are done by the "Manatee Masters," who are extremely knowledgeable and eager to answer any questions you may have. It was really neat to see a large screen TV with a constant running live-feed of the manatee viewing area. They also have a giant white board where they keep all up-to-date information on the water and weather conditions for each day, and how many manatees have been there those days so far.
We enjoyed looking around the gift shop, which had gifts for every type of person, from baby to adult, from books to clothing, jewelry, and even fine art. The North wall had a beautiful manatee mural that covers the entire area of the wall all the way up to the cathedral ceiling. To top it off, they also have a display that shows you what a infant and adult manatee skeleton looks like. Did you know that manatees have approximately 200 bones in their body?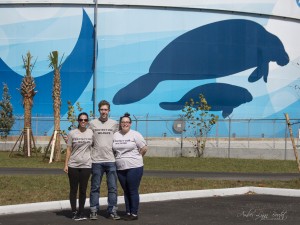 We made our to the second floor where they have an indoor banquet hall, and a wrap around porch with another manatee viewing area, not to mention the amazing panoramic view.
Manatees can thrive in both fresh and salt water, so they can be found in rivers, springs, and oceans.
About 25 percent of manatee deaths are caused by boating negligence where boaters fail to abide by manatee speed zones resulting in manatees being hurt by a boats powerful props.
Fishing line and trash in the water, can be swallowed by manatees, and become lodged, undigested, and severely harm or kill them!
Remember, always follow the law, abide all boating signs, and never throw trash into the water. Keep our waters clean and safe for our sea life, as well as people. Until next time!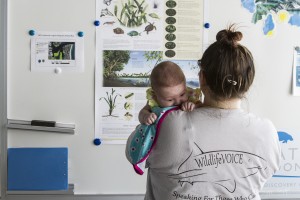 Your WildlifeVOICE Team,
Amber, Ryan S., Nikki, and baby Ava