The goliath grouper has recently become a source of controversy within the state of Florida. With this, there has been quite a bit of misinformation circulating around the issue, so we've gathered these claims below (marked in italics) followed by what research tells us!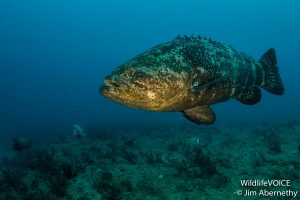 Florida's Fish and Wildlife Conservation Commission (FWC) is considering reopening fishing of the critically endangered goliath grouper. Local fishermen have pressured the agency, stating that the grouper populations have recovered and they fear the groupers are consuming too many game-fish and lobsters. 
What Does Science Tell Us?
A Florida State University research team published a paper on their recent findings regarding the species stating, "The goliath grouper is still largely overfished and critically endangered".
A recent research paper by Dr. Sarah Frias-Torres shows that overfishing is the primary reason for declining sport-fish and lobster stocks – not goliath groupers.
An analysis of goliath grouper stomach contents, conducted by the University of Florida, found that 85% of their diet consists of crabs and other crustaceans. The other 15% was primarily consisted  of slower moving fish such as pufferfish and catfish – not game fish.
A peer-reviewed paper, published by Florida State University, shows that reef fish abundance and diversity is recorded to be higher when goliath groupers are present on reefs. This shows that goliath groupers act as ecological engineers, creating life for many marine species.
Florida's Fish and Wildlife Conservation Commission (FWC), along with other entities, have conducted several stock assessments of wild goliath groupers. The most recent of thee surveys took place in 2016. The FWC's recent assessment concluded that goliath grouper populations had recovered. However, these results were rejected by a panel of independent scientists brought in by the FWC to review the study. The panel rejected the manner in which these assessments were conducted and labeled the findings as an inconclusive measure of population. Currently, the Goliath Grouper is still listed as 'critically endangered'.
The Fish and Wildlife Conservation Commission (FWC) stated that 400 permits may be sold annually to harvest the groupers. They theorize that if permits are sold for $300 (a proposed approximation), the total sale of these permits could bring in up to $120,000 to be used for 'scientific research' of the groupers. In addition, they state that these captured fish can be sold for food, further increasing the harvest value.
What Does Science Tell Us?
The goliath grouper has become a huge, thriving, piece of the ecotourism industry along Florida's East Coast. One, out of the roughly one-hundred, scuba operators in South Florida stated that he brings in an estimated $500,000 each year, generated by taking divers to see these groupers in the wild. By protecting these animals, the long-term economic benefits to the state of Florida far exceed the value generated by a one time kill.
Dr. Chris Koenig's research revealed that the flesh of the goliath grouper contains high levels of mercury. Mercury levels in these fish were found to approach 3.5 ppm, far exceeding federal health advisory warnings. The FDA prohibits the sale of any fish with mercury levels higher than 1.0 ppm. With mercury levels higher than 0.5 ppm, the Natural Resources Defense Council recommends to avoid consumption due to the danger of mercury poisoning.
Former Chief Scientist for the National Oceanic and Atmospheric Administration (NOAA), Dr. Sylvia Earle, warned that, "Killing the goliath grouper would be killing the growing economic benefits derived from divers who want to see these Iconic animals, who are often as curious as us.
Some say that a 'sustainable' annual harvest of goliath grouper is possible, but many scientists agree that the current population would not last more than a year or two after opening such a fishery.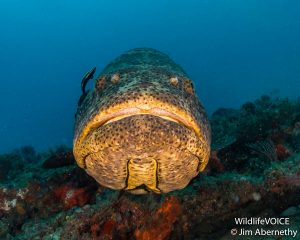 Please voice your concerns to the FWC by sending an email to marine@myfwc.com or call them at 850-487-0554.
Also, please take a moment to sign and share the petition to save their species!